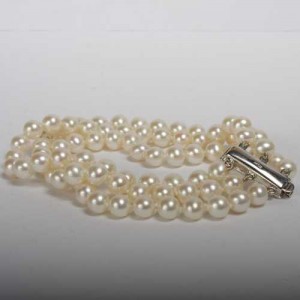 We offer a full re-stringing service for pearls or beads.  Please enquire. There is a 2-3 week waiting time for this service.
Guide Prices:
16″-18″ without knots from £16 per row for pearl re-stringing
16″-18″ with knots from £18 per row for pearl re-stringing
Additional inches: £2 per inch.
If you wear your pearls often, it is recommended that you have them re-strung every 2-3 years.  We can also repair or replace broken clasps.  We recommend having knots between each pearl to stop them rubbing together and to prevent you losing them in case of breakage.