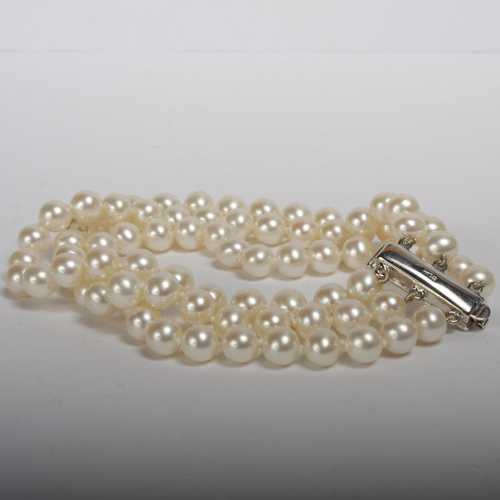 The North Yorkshire East Federation of the Women's Institute are celebrating their Pearl Anniversary this year, that's 30 years young, and over 200 ladies from all over the federation came to Helmsley to have lunch and listen to the marvellous Susan Rumfitt from Harrogate (of  the BBC Antiques Roadshow) give a lecture on the fascinating history of pearls from natural pearls to today's cultured pearls. A special point to note from the lunchtime lecture – champagne & jewellery go well together – additional sparkle!  I was lucky enough to attend with 9 members from Appleton-le-moors WI where I am President.
I wore my new Akoya pearls, large 10.5mm studs with 9ct gold backs & a matching necklace which Susan, our pearl supplier, strung to 19" with a special sterling silver clasp which will take a pendant for a more modern look on other occasions.  I chose the pearls at the Birmingham jewellery show and this was their first outing as a completed set.
We offer a restringing service for pearls, which is recommended every 2-3 years if you wear your pearls often, or can be used to change the style of something you may have grown out of (taste-wise or size-wise).  We also have some fabulous new Keishi Pearls & Chocolate coin pearls in stock – which just goes to  show that like the WI, pearls never go out of fashion, and there's far more than just the traditional style of "twinset and pearls" available.
Glossary:
Keishi Pearl: Small pearls that from in Akoya oysters spontaneously while the larger cultivated pearl grows, they don't have a nucleus & have interesting irregular sizes.
Akoya Pearls: Cultivated in Akoya oysters, typically round in shape and usually of Japanese origin.
Coin Pearls: These are nucleated with a flat disc to help achieve a consistent flat round shape.