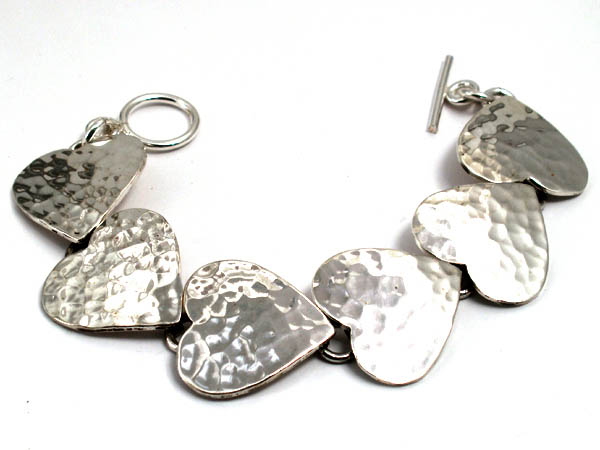 Women in Business – Saving the British High Street BBC News at Six Film < Watch here!
To blog or not to blog, that is the question.  It isn't that we haven't got lots of news here, it's finding time to tell you all about it that is the problem! Love has certainly been in the air this month, we are making lots of wedding rings for couples who are taking the plunge in 2014.  Wedding jewellery is usually one of the last things to organise in your wedding plan, and our bespoke ordering service for rings is perfect for last minute decision makers. We can make plain bands in 2-3 weeks and stone-set in 3-4 weeks.  We have even rescued one very unhappy bride with a special stone-set ring made overnight ready for her wedding after another supplier let her down!
Valentine's jewellery doesn't need to be about hearts, but jewellery with heart motifs like this gorgeous silver bracelet are always popular with our customers, whether that's ladies buying for themselves or chaps buying for their special someone.  Love-hearts never go out of fashion!  Helmsley in Business are working on a special event for Yorkshire Day this year and a wedding dress festival on the 2nd and 3rd of August – weddings from all eras will be showcased with vintage dresses, cakes, and personal mementoes of weddings through the ages in All Saints Church. It will be a great weekend to visit and enjoy many activities on offer here, so "save the date"!
I was very excited to help Federation of Small Businesses launch their latest piece of small business market research via an exclusive on BBC News at Six with home editor Mark Easton.  With more than 50 female colleagues from Helmsley in Business, we made a film about the future of Britain's High Streets and the fact that women are dominating small High Street Businesses.  A trend which is definitely reflected in Helmsley where more than 60% of businesses are female owned, or partnered, like ours.